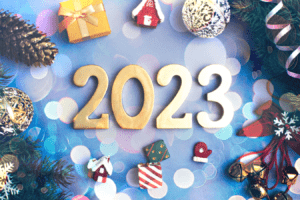 Traditions are synonymous with the holidays, so in keeping with ours, some of Osborne's Principals and Senior Advisors reflect on the outgoing year and what their hopes are for the incoming one.
Whether your traditions are baking treats, decorating parties, or donning an ugly sweater, we hope it includes spending quality time with the ones that mean the most and taking some time for personal reflection and self care.
We at Osborne wish you the happiest of holidays and a healthy new year!
I have to begin by acknowledging how fortunate we are for the support of and indeed fellowship with our clients, a number of whom have been with us for several years. To have 2022 where we could sit down face to face, toast successes and work through their business challenges together was both more productive as well as enjoyable. Kudos to the entire Osborne team, at times geographically apart but always on the same page with their integrity and commitment to delivering value. We've grown to 30 men and women with an impressive breadth and diversity in experience.
As we head into 2023, I see a plethora of issues at home and abroad which are troublesome and, in some cases, downright frightening. I don't need to list them. More than ever, we will need great leadership, resilience, and sacrifice. Above all else we must foster innovation in every sector.
I had the benefit of travelling to my ancestral homeland Iceland this fall where university is free and nobody pays to heat their homes. Hard concepts for North Americans to digest. Their miles of "pipelines" distribute hot water from huge thermal energy plants that generate many times more electricity than they could ever use. There is innovation and entrepreneurship on display everywhere. Their "farmers" offset the lack of arable land with rental cottages, riding stables, restaurants, and gift shops. Their labour force is bolstered by foreign workers from across Western and Eastern Europe. Inclusivity is on full display with a main street painted rainbow curb to curb. This from a country that in 2008 was bankrupt because it didn't know how to monetize its greatest resources.
Here at home we sometimes have trouble getting out of our own way. Our own values have been seriously tested. We need to get back to being decisive not divisive, collaborative not combative, creative not closed minded. Growing up I always felt I was so lucky to be a Canadian. I surely hope my grandchildren and their children will be able to say the same.
For me, I see 2022 as a year of positive transformation. While there's lots to be down about – the higher cost of living, threatened food security, the relentless invasion in the Ukraine as a few examples – I choose to adjust my mindset to focus on the good and work to change the things I can control.
This past year saw a resurgence of people living their lives with renewed vigour and excitement. People travelled again, restaurants and entertainment venues were full, and personal connections were made stronger after two years of distance and discontentment. I personally experienced all of the above and I loved it! It was a reminder to not take time for granted and to live in the moment – one of the positive lessons learned from the Covid years.
On a personal level, my teen/tween daughters emerged out of the pandemic healthy, both mentally and physically, and for that I'm extremely grateful. They've transformed into lovely young ladies who value friendships, love openly, and can face hard times with optimism and resilience.
As for me, I too grew this past year – both metaphorically and physically! Last year I set a personal goal of dead-lifting 210 pounds and I exceeded that by eight! All that weight training helped me achieve another goal – to become a Pro Bodybuilder! I have spent the last year immersed in learning about the human body and mind, what they're capable of, and learning about how nutrition is the fuel for both.
I wish you all good health, a happy heart and true contentment in 2023!
As we prepare to turn the final page of the 2022 calendar, it's fitting to reflect on what the year brought us. While Covid is not in the rearview mirror, it seems to have lessened its grip on our healthcare system. Many businesses are putting new plans into place as they find a "new normal" coming out of the pandemic. It's been an honour to work with a number of individuals and businesses over the past twelve months.
I am always struck by the uniqueness of each business and its approach. Just as there is no cookie cutter business, nor is there a cookie cutter solution to current or future issues. Listening, clarifying and building unique solutions is key to each organization.
I wish each of you a rich and blessed Christmas. The joy of the season, reflecting on family and friends and the importance of them in our lives.
Merry Christmas
I have learned to say "thank you" in about 40 different languages. It gives me a real kick, if I can recognize an accent or a name to say thank you in a familiar language. It almost always puts a smile on their face, often they will say "you made my day". I believe it's a way to break down barriers when someone makes the effort to learn even two words from a different culture. Often it opens the door to a deeper conversation than you might not otherwise have. I am also that guy, as is my wife, who will always offer to take pictures of people who are struggling to get a selfie; while in Basel at the end of November, such a moment occurred that resulted in meeting a Swiss gentleman who had spent his sabbatical in my home town of Guelph. The gentleman was so excited that if we had been there longer, we would have been having dinner at his home with his family.
It seem like every day, we are barraged with news, sadly very little of it good. Social media does an excellent job of firing articles at you particularly if you make the mistake of searching a topic. I realize there is relatively little I can do to affect some of the challenges facing us in 2023. I will continue to recycle and compost, I'll walk instead of taking the car, I'll use LED bulbs, and donate to charities. And, I will continue to build small bridges, where I can bring small shards of light into the lives of people around me by saying thank you in their mother tongue and watching their eyes light up.
That said, I would like to believe that 2023 will bring us a simpler, less complicated life. That people and countries learn to live together and work towards the greater good. That solutions to significant challenges are discovered and actually worked on.
2022 was yet another year which taught me not to be surprised by much. Perhaps that does make me more resilient in a sense, although I fear it may simply be numbing me to the constant fighting between so many groups. So my wish for 2023 is simply that we all start listening more to each other better;
Politicians to those who elected them, and perhaps even to other politicians to find common ground.
World Leaders to find ways to bring peace to troubled geographies and populations.
Policy makers to truly try to understand the stakeholders they're impacting.
Citizens to those with opposing views and preferences.
It'd be great to redirect the associated negative energy from today's conflicts, to rebuilding trust, professional and personal skills, businesses of all sizes, and the economy. We'd then remember how much we have to learn from each other, and how great it feels to help others.
At the start of 2022 I never envisioned an opportunity to join an organization with so many talented and accomplished people. This is both exciting and humbling at the same time, but serves as a good reminder in life, as in business, to always expect the unexpected. As we close out 2022, I'm thankful to see the world gradually returning to normal with our supply chains, travel, and face-to-face meetings bringing renewed optimism to our social and economic well being.
The end of each year is also a time to reflect and remember those less fortunate and suffering from conflicts and human rights violations. The war in Ukraine is but one example, and it's with a renewed hope the new year will see healing and hope to all suffering.
As we look forward, each year brings new opportunities and challenges and highlights the importance to always be prepared in our ever-changing global environment. As in the past, it's our resilience, knowledge, and commitment that will ensure positive outcomes for clients.
My wish for 2023 is that we embrace what's important in our lives, find our strength through giving, and provide healing through acts of kindness. From my family to yours, we wish everyone a safe and happy holiday season and a prosperous new year.
2022 has been our year of re-emergence… sometimes tentative, sometimes bold, sometimes forward and then back before forward again…
Now is our opportunity to embrace 2023 for all the grandness and "more" it can possibly hold…
…More genuine hearty belly laughs…
…More of the surprise and delight that comes with an "oh wow" learning moment…
…More success in achievement of a goal that you (almost) thought impossible….
…More connection to nature and community…
Wishing you…
…The courage to persevere when the path ahead is not clear….
…The strength of tradition and the energy of something new…
…Absolute clarity of what really matters to you…
For 2023 I will wish you MORE…And all of that wrapped with health, happiness, and memorable time spent with family and friends! Here's to making 2023 our best year ever!
As a BC-based member of the Osborne team I am thankful that the summer of 2022 did not bring wildfires to our province like those of 2021 – this season was a positive post-covid/low wildfire/post-atmospheric river period of stability and growth. I spent the summer on assignment for Osborne at Sun Peaks Ski Resort and must give it a plug here – it's an amazing place, one of the very best all-season resorts I've visited.
Looking forward to 2023, my thoughts are all about climate change. My Osborne colleague Bob Hawkesworth gave us a great presentation last week about climate change and how Calgary is addressing it. He has awakened the appetite in me to research how BC is doing in comparison. Maybe that's my new year's resolution…
Best wishes of the holiday season to all our clients and contacts. May 2023 be a vintage year for everyone!
The last few years have been monumental in terms of changes and adaptation across the globe. As a society, we have experienced the worst and best of how we should treat each other. It seems that our leaders conveniently forget past history and recreate the same historic blunders over and over and never learn. We have aggression, that we all condemn, but really do nothing to stop. We have democracy at risk of disappearing (as we have known and respected it) as the rules of engagement change to suit a particular outcome. We have small special interests thrusting their agendas on the silent majority and causing disbelief and havoc. We have health workers stretched to their limits trying to serve a demanding task master and the general public who require their expertise. There is still compassion for one another, but it is at risk of evolving into a self-serving philosophy where the "Law of the Jungle" prevails.
What can we do in 2023 to ensure we are truly a civil society? We can be tolerant, supportive, generous, aware of our changing communities, embrace change that serves the greater good and fight back against bullies and aggression. History has taught us that this can be done, with positive outcomes, but we have to do it together and for the right reasons. We have been through a great deal, recently, but we need to do more for us, the collective us! We are better and stronger together.
All the best for 2023.
The events of the past few years have impacted my perspective on many things. I'd suggest that this is not necessarily a bad thing as we have been reminded, quite abruptly, about the importance of health and security in our daily lives. Many of us are very fortunate and we cannot take this for granted, and we need to be intentional with how we spend and invest our time.
As I look ahead for 2023, I'm excited that there are new opportunities emerging that suggest we're settling into a new rhythm in our day to day lives and progressing forward. After having our world views altered, I'm hopeful that more people will appreciate working together to make positive impacts in our communities and with our clients. Division and fighting over issues seem to do little except waste time and energy, so we need to find the common ground and channel our efforts into making progress. Collaboration is key and I hope to be part of and see more of this in the new year.
Wishing everyone all the best in 2023!
It feels like just yesterday that the world was shutting down and everyone's lives were put on hold due to Covid-19 that was trampling the foreseen future. We also faced uncertainty about our economic and financial situations, both provincially and federally.
However, as 2022 ends and human health (hopefully) continues to progress in a positive direction, we must try our best to be grateful.
The holiday season is here, and a new year is around the corner. There are good things to focus on. The traditional energy associated with the month of December is cheerful, kind, loving, and comforting.
I look forward to working with my colleagues at Osborne to provide specialized and integrated professional services to our clients (including risk management, ESG, governance and organizational resilience) that helps them to generate and protect value and to create a business strategy that assists their organization resilience and, where possible, create a market niche for their products and services.
I wish you and your loved ones health, success, and happiness in 2023!
May all of Osborne's many friends and clients experience gratitude, discernment, and patience in 2023. Gratitude for the benefits and gifts life has bestowed upon us, even in adversity; discernment in knowing what the year is calling you to do; and patience, in grappling with the turbulence and disruption that continues to play out in all aspects of our lives. May 2023 bring much satisfaction as you navigate the challenges and opportunities you encounter this coming year.
As we wrap up the remaining days of 2022, I want to wish everyone a really special holiday season. After another roller coaster year of adjusting (and readjusting) to new ways of working, my hope is that 2023 will allow us all a period of "settled" time to re-establish what's most important to us, and leverage our new perspective to set a thrilling vision for the future of both our business and personal lives.
Looking forward to seeing what we can achieve together in 2023!
Merry Christmas from my family to yours. I am wishing all Osborne clientele all the best over the holiday season and for a happy and healthy 2023. As we experienced escalating conflicts in Europe and the world over in 2022, I am hoping for peace and calm, and that as Canadians that we never take for granted the benefits we enjoy living in this wonderful country.