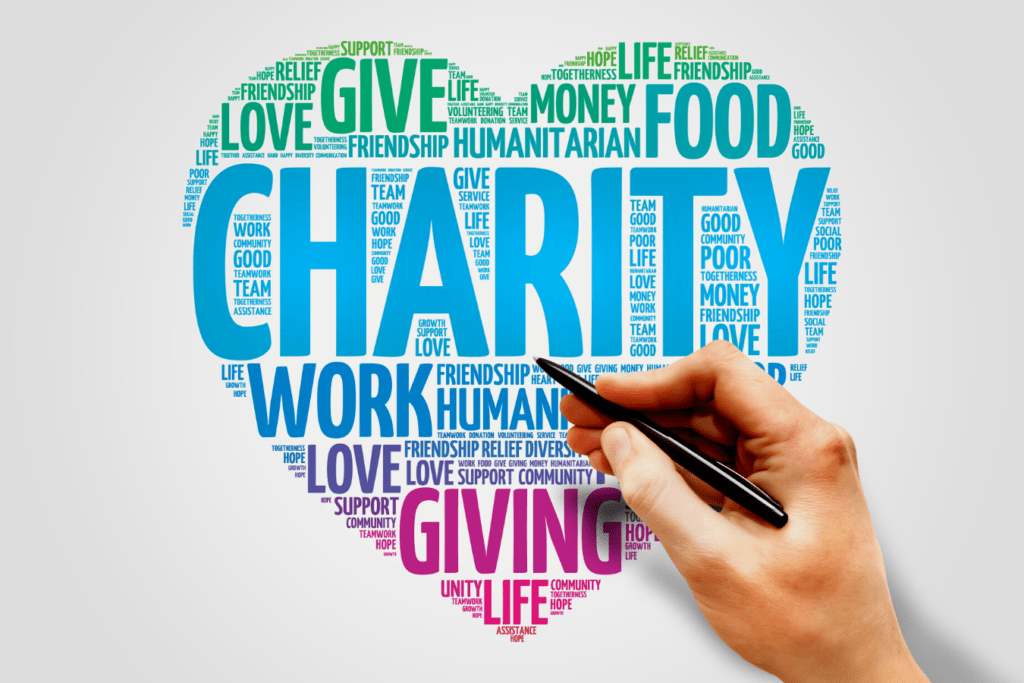 Over the last two plus years, there have been so many changes made to and within society across Canada. The Covid-19 pandemic, as we have all experienced, firsthand, will leave an indelible mark on our history as a society, as the Spanish Flu did to society at that time. The political division between left and right or red, blue and orange, have also impacted the life we knew, not so long ago. A shift in economic confidence has occurred with the rise in inflation, supply chain issues and microchip shortages that we, now, really depend on. These are all well-documented, daily issues that affect our lives and society. But, what about changes we don't see in the headlines, changes that are in motion now, but may not see the light of day for the broader society. For the non-profit sector and for charities, there are a number of issues that may make sustainability for agencies, institutions, and charitable entities, that much harder to achieve.
I was able to attend the Association of Fundraising Professionals (AFP) annual Canadian leader retreat this past July. It had been planned as an in-person event since our last retreat at UBC in Vancouver in 2019. Covid changed those plans, twice, but it was wonderful to gather with colleagues from across Canada in Montreal, whom I had not seen in three years, in-person. This was my 16th retreat since 2007 when I travelled to my first in St. John's, as well as two virtual events in 2020 and 2021. I've been privileged to gather with the leaders of the fundraising profession from across Canada, as well as the leadership of the Association and global Board representatives. It's at these gatherings that leading issues/trends are identified and the collective brain trust listen, discuss and plan for proactive responses as a group to be ready for when the media or government realize what is happening.
One area that's been very much a focus of the Association, that represents over 28,000 members worldwide, is what our group describes and refers to as IDEA (Inclusion/Diversity/Equity/Access). We're hearing more and more about these concepts and the media stories are numerous and have been for the last number of years, when Black Lives Matter and Me Too movements captured the public eye. AFP has been actively working from the Global Board down to each Chapter spread across the world to address IDEA and its merits to make changes within the charitable sector. Peter Drucker, the respected business author, has referred to charities, social enterprises and voluntary groups as the "Third Sector". The Third Sector follows after the business sector and government/public sector as contributors to national GDP. In fact, the Third Sector is often a larger contributor to the economy than some large industries, combined!
AFP has, in my opinion, been way ahead of the curve in recognizing some of our current issues that the Third Sector identifies and attempts to rectify well before industry and government lift a finger. Charities and non-profits, as a rule, don't have the resources that business and government have to enact change, but they move forward because it's the right thing to do. Recently, as a way to improve hiring policies, AFP will not accept recruitment advertising through their Career Boards for organizations that don't disclose the salary range of the position they want to advertise. This is a bold move as many in our sector have seen the ads that say, when it comes to the remuneration area of a position profile, these types of lines:
Competitive and commensurate with experience
Please indicate your expected salary range
You have no idea what the organization is willing to pay and are scared to put what you believe your value is. What this policy does is disqualify candidates based on their salary expectations, regardless of their ability to add value to the organization. It often forces candidates to de-value their experience in hopes of landing the position, by low-balling their salary expectations. This is an unfair practice and needs to stop so a transparent and open negotiation can unfold. Below is a current example from Habitat for Humanity Edmonton: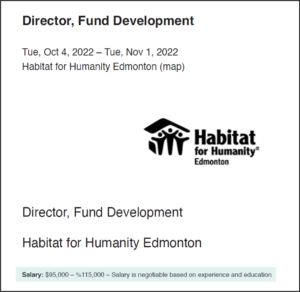 Another area AFP is providing thought-leadership in is truth and reconciliation. We've recently witnessed the Pope's historic trip to Canada to apologize for the misdeeds of the residential school system for which the Catholic Church, the Church of England (Anglican) and many other religious orders were involved. Incredibly, they all asked for forgiveness and apologized for the historic policies of the day. This is a remarkable time in our society as broader understanding of what "really" happened gets oxygen and the general public has finally woken up. Historically, we've been terrible neighbours to our indigenous cousins, by not believing their stories and the trauma that's been exacted on them as a society, by our "society"! I believe we are on the right track and that the efforts to bring understanding and compassion are taking hold so we can make Canada the great country it was intended to be.
Derek Fraser, CFRE
Senior Advisor