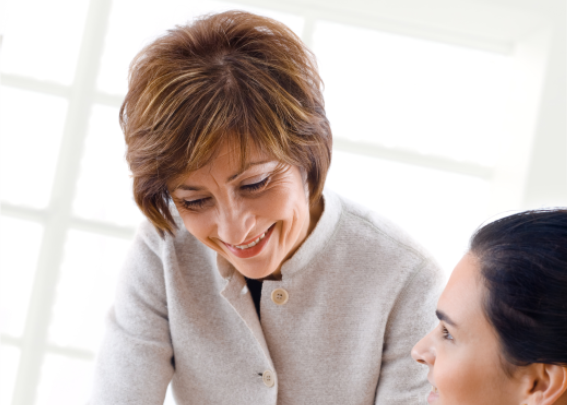 How to Set Up an Effective Mentoring Program
Early in my career, I learned about the value of having a mentor. Back "in the day" there were no formal mentoring programs at the financial institution that I worked at, but I found myself looking forward to spending time with two particular senior executives. I watched their interactions with employees and customers and listened to their messages and how they delivered them. I took note of how they
dressed and how they carried themselves. I didn't know the word for it then, but I was being mentored and my mentors didn't even know it!
Today, mentoring has come a long way in becoming a more formal program in most progressive companies. It also has become a critical
function as a great deal of corporate knowledge needs to be transferred to the next generation.
This article is a follow up to Osborne's article in January about the merits of mentoring. It will help your company set up a mentoring program that is easy and sustainable.
There are four parts to setting up a mentoring program.
First, the company needs to articulate the purpose of the mentoring program. The purpose can be anything from sharing the knowledge of a senior employee approaching retirement to development of junior staff, reparing them for a future in your company or industry. Articulating the purpose of your program will allow you to be focused and avoid becoming too broad and diluted. For the purpose of an example, "our mentoring program is to develop young accountants in an organization, preparing them for future roles."
The second step is to define the areas of the company that will be part of the program. In our example, we are going to involve all departments of accounting in an effort to give our young grads exposure to all the area's different disciplines. For each discipline, a check list of mentoring topics should be documented. This will assist the mentor in structuring their part of the program, making the learning consistent between mentors.
The third step is to identify mentors. Previously, we discussed what would make a good mentor. In sum, a good mentor is a good listener, empathetic, very knowledgeable in their area of expertise and has time to dedicate to his or her mentee. A good mentor need not be a leader of people. In fact, being a mentor can assist an employee in becoming a good leader by developing coaching skills. Always identify mentors first before committing to a program. You will need to know you have the support and resources to make it happen.
Once the mentors have been identified, the obvious next step is to identify the mentees. An ideal mentee is one that has already shown initiative, loves to learn and is obviously looking forward to moving up in the company. Never choose an employee who has performance or attitude problems. A mentoring program is a reward for those employees who want a challenge and have proven themselves in their current role. It is not the time to hand problems off to someone else to try and fix!
The matching process is the next step. When considering whom to match with whom you should take into consideration the following:
Personality – having the same is not always better. But be aware of total opposite personalities.
Learning style, versus coaching style – exposing employees to different types of mentors will lead to a more rounded individual.
A mentor should never be an employee's leader.
An obvious factor is location. While proximity is best, current technology (i.e. Skype) allows you to expose employees to others in your organization from around the world.

So here you are: You have defined the program, identified and matched your mentors and mentees. Now what?
I recommend having a kick off meeting that has both a formal agenda and a networking component and includes all participants. The formal agenda should be led by an HR facilitator and every attempt should be made to have the most senior executive address the group at the beginning. The formal part of the program can outline expectations of both the mentor and the mentee and provide recommendations on meeting
frequency and length. Every relationship will fall into its own rhythm over time, but initially, structure is important for sustainability. In order to get the mentors and mentees talking, I recommend, planting some questions with both parties. This may or may not be required. If there is initial awkwardness, having some prepared questions will really help the conversation flow. The goal of this initial session is to make sure that both the mentee and mentor have similar expectations and feel comfortable moving forward.
The formal agenda should be followed by a less formal networking session, even over a lunch or dinner. The mentor should demonstrate their networking skills and introduce their mentee to others in the group. The meeting should not end without a commitment for a follow up conversation or meeting.
The final piece of the mentoring program puzzle is the most important and the most difficult – sustainability. While it is inevitably up to the participants to keep the program going, you can assist by offering the following assistance:
Regular check in's with participant (monthly or quarterly). Are there any challenges? What are some successes?
Give topics for discussion.
Bring the group together six months into the program. Focus on results and if any improvements can be made.
Follow up with the mentees leader to see if there has been any progress.
Ensure there is a goal related to mentorship on the mentors performance reviews (what gets measured gets done).
Provide a expense fund for mentors and mentees to go for coffee or lunch.
Develop a year-end assessment scorecard that will assess the program from all perspectives.
Start the cycle every year with a kick off. Consider changing up the mentors and the matches currently in place. If the current matches feel that want to continue, let that happen too.

Suzanne Wilson
Principal