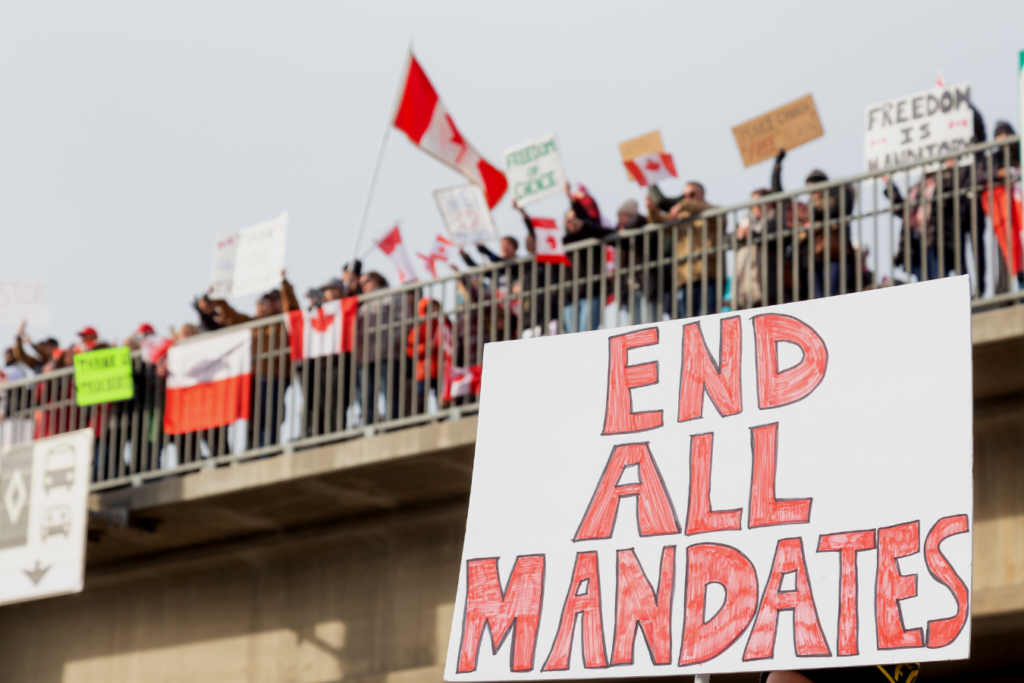 Many years ago, when I was learning how to sell advertising in the Canadian Capital of Wholesale, Winnipeg, one of the more impactful books I read was The Art of Negotiation by Herb Cohen.
In it, Cohen talks at length about the three tenets of a successful negotiation, power, time and information. I couldn't help but harken back to those basic principals during the paralyzing blockades at the Coutts and Windsor border crossings, and of course downtown Ottawa.
In any negotiation, the best deals made are of the win-win variety. Those offer both short and long-term value to the parties. Let's take a closer look at what the resolution of those three incidents resulted in.
The speed at which these occurred, and the chaos that was created, put the power in the hands of the protestors. They were better organized, better funded than anticipated, and more widely supported than authorities were prepared for. That gave them credibility and expertise. Clearly, they had time on their side; being well financed and supplied meant they could take as long as needed to garner the concessions to pandemic restrictions they were looking for (the radical element was out for far more, but that's another story). In terms of information, they knew that under the guise of a peaceful protest there was little the authorities could or would do to stop them. They knew that dislodging the air brakes and moving their 18 wheelers and large farm implements was no easy task and they would likely garner the support of the towing companies with which they did business in regular times. They knew the growing funding base would give their movement additional strength. Further, they realized the presence of entire families, including children, would bring further pause to police. And, they knew that no one police force had enough resources to dismantle their efforts once they were entrenched.
Authorities adopted the tactic of trying to build rapport with the protestors so they could win small concessions, again a great negotiating tactic. However, as the economic and social impact of these protests grew exponentially, time was no longer a friend and pressure was mounting on all levels of government to take action.
Three events turned the tide against protestors. First, at Coutts, investigative prowess led to the discovery of a cache of weapons and the arrest of a criminal element amidst the legitimate citizens exercising their rights. This was intelligence (information) the majority of protestors didn't have. All of a sudden fear of loss overcame expectation of gain, as it often does. The lives of police officers who had just been doing their jobs was in question, officers charged with protecting their businesses and farms during normal times. That rapport the RCMP had built up influenced the voluntary dismantling of the barricade and in an emotional scene, officers and protestors hugging each other when it was all said and done. It was a happy ending to a three-week negotiation.
Result – Win-Win: Both parties achieved their goals, just like in a good sales transaction.
Meanwhile, it's likely a call from the President to the Prime Minister that put an end to the blockade at the Ambassador Bridge border crossing (Windsor-Detroit). This irony was not lost on the public as both countries had declared the truckers heroes, then made a late in the game change calling for mandatory vaccination rules for truckers leading to the spark that lit this tinder box. More resources were deployed, and heavy vehicle tow trucks brought in by the Americans to clear the road. Money talks, nobody balks, and this protest was crippling an industrial corridor worth billions. Protestors lost their power because they lost their credibility with plant shutdowns angering citizens in both countries.
Result – Win-Lose: This was not a good fight for the freedom convoy to pick and it cost them within their own ranks.
Ottawa was a much different story. It wasn't a blockade but an occupation that the local police couldn't, or wouldn't, deal with. For weeks these well-organized "social anarchists" had everything going for them, turning the citizenry against the authorities. A lack of resource coordination among three different levels of government, and an absence of leadership emboldened the modern-day squatters like nothing else could. Then one morning the Prime Minster woke up and enacted the Emergencies Act. That was a card no one had anticipated being played, but for law enforcement it put a jack and an ace in all their hands. Who would have ever envisioned officers from Vancouver making arrests on Wellington Street, or mounted police from Toronto clearing the crowds near Parliament? Bank accounts were locked, and crowd funding choked off. You can say it was at its worst a draconian measure or at its least overkill. But authorities weren't going to lose out this time. It reminds me of when I dropped the market price by 20 percent to make sure my radio station got on the ad buy of a national retailer. The buyers looked at me somewhat aghast but had no choice but to give me the business. I wasn't that popular with my competitors, but I wasn't going to be denied.
Result – Lose-Win: This situation never had to get to this point. The reputation of the Ottawa police, Ottawa City Council and ultimately the Prime Minister were tarnished, and the protestors could claim moral victory.
So, what defines a win-win negotiation in business? Understanding each others' objectives, asking the right questions, listening, not over-reacting, focusing on what each side can agree on, providing concessions in good faith and leaving the table with respect, regardless of the outcome.
Mark Olson
Managing Partner & Principal