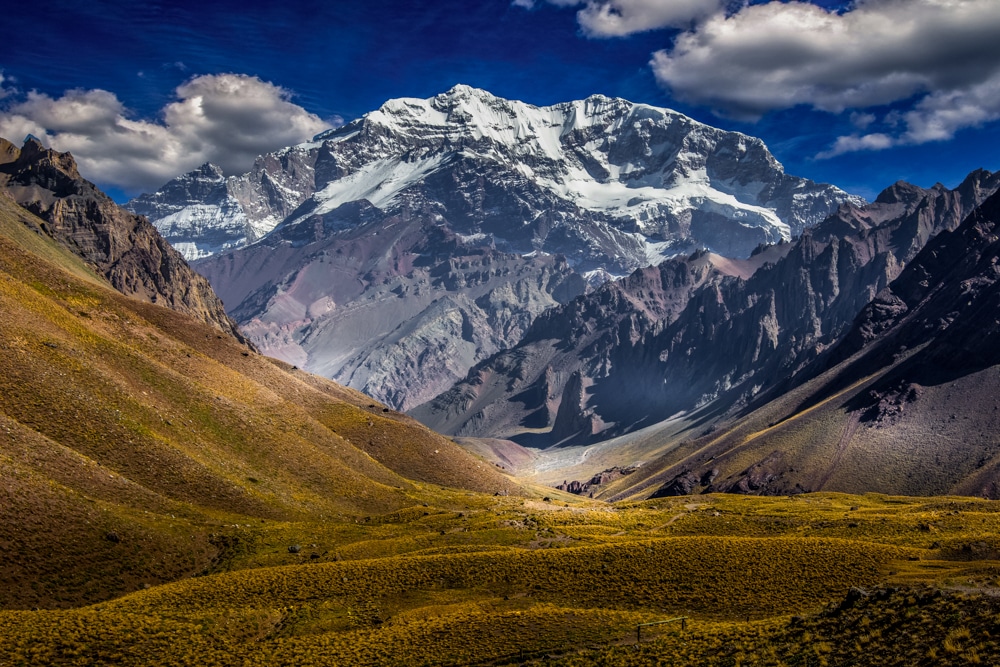 In February 1994 I was, most likely, the highest man on earth. I was at the summit of Aconcagua in Argentina. At 22,837 ft tall, it is the highest mountain in the southern hemisphere and the tallest mountain outside of Asia. Since it is winter in Asia in February, it was very unlikely that anyone was climbing there. Hence, I was the highest man in the world!
Accomplishing such a feat doesn't just happen, just like success in business. As the saying goes, the harder you work, the luckier you get. Here are a five of the many things that I took from my climbing experiences into my business career:
Pick Your Team
I knew my climbing partners well; Ian had already tried to climb Aconcagua once; he was turned back by bad weather and the discovery of two climbers who had perished in the weather, and was very experienced. He has since gone on to ski to the south pole and cycle the Dempster Highway. His outdoor experiences were great to have on the team. My other partner Glenn was a cop on a SWAT team; strong and determined, the kind of guy who could carry me off a mountain if needed! Our guide Daniel had climbed Aconcagua many times, holding the record at one point for the fastest ascent. It's good to have people around you with experience who have been there before.
Planning
Climbing a mountain is not something you do on a whim. The actual climb took just over two weeks but the planning started three years earlier with equipment lists, training plans and background reading. Closer to the event it was equipment purchases, medical exams, inoculations and visas. The number of equipment lists, travel itineraries and climbing schedules that were faxed between the team in 1992 and 1993 was ridiculous and absolutely necessary to give us the best chances for success.
Preparation
In my basement were the many books I had not cracked open since University and they became my training partner. Filling a 45 litre backpack with as many books as I could, I hiked around town, up stairs, up hills, hills and more hills.
As I bought the equipment I would need, I started using it, making sure it would be second nature on the climb. I did a training climb on Mt. Rainier the year prior. Although only 14,211 feet, it would give me a taste of what to expect.
There was however one thing I could not truly prepare for; how I would react to extreme altitude. On Rainier, we spent less than two hours above 13,000 feet. The gasping for oxygen was noticeable. But on Aconcagua, the summit of Rainier is the same elevation as base camp. We were going to spend several days having to acclimatize and one night where we would sleep at 21,500 feet. The death zone is 26,000 where there is insufficient oxygen to sustain life.
Positive Attitude
Be around people with a can-do attitude. Both of my team mates had positive attitudes to training, climbing and supporting each other. We each had moments during the climb when we felt like giving up. Mine came on a day when the weather was bad, I was struggling to get a breath, my pack seemed heavier than usual and the snow had discovered a way to get into my gear in quite the most annoying way. It was amazing how a sympathetic pat on the back and offer of help from a team mate made a difference, plus they had tea waiting for me when I finally dragged my sorry butt into camp hours after them!
Goal Setting
We had an interesting conversation on the first climbing day out of base camp. Daniel, our guide, stopped us about an hour into the hike. He had us look to the summit that was 10,000 feet above our heads. He then turned to us and said "You will not get to the top if you keep focused on the summit. Look for a closer target, a rock outcrop, a bank of darker rock ahead of you, a tent in the distance. Make this your immediate goal, get to that, then set a new goal. You need to break the mountain into bite sized portions." It felt somewhat ridiculous on the first few days as we were strong and ready to push, but after a few days, never was there better advice.
We did make the summit on February 5, 1994. Two of our team, Ian and I, made it. We drank what I only describe as the fizziest can of coke at the summit! Unfortunately our partner Glenn was hit with altitude sickness earlier on summit day and Daniel had to guide a very disoriented man back to camp.
There are so many more comparisons between mountaineering and business; space does not allow me to go on. But, if you are interested in learning more, a great book to read is; The Right Mountain: Lessons from Everest on the Real Meaning of Success by Jim Hayhurst.
Simon Batcup
Principal