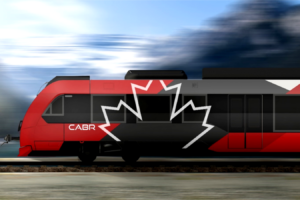 Is providing passenger rail service from Calgary to Banff transformative? It's been done before and last operated as a Via Rail Service in 1990. That service failed due to scheduling challenges associated with trying to provide passenger service on a CP Rail line that prioritized the movement of freight.
So, what is different now? Why could the proposed Calgary Airport to Banff Rail (CABR) service, which has been identified as a priority project for the Government of Alberta under Premier Smith's leadership, be transformative to Calgary and communities in the Bow Valley Corridor? For one, with CP Rail's support, CABR would operate on a newly built rail line in the existing CP Rail corridor, thus eliminating conflict with the movement of freight. This will provide a consistent and reliable passenger rail service connecting Canada's third busiest airport and Canada's second largest downtown office concentration to Banff, the most visited National Park in the country.
The proposed CABR service is to be connected to the Calgary Airport allowing for seamless connectivity from airline to rail line with direct express rail service, every ten minutes, to downtown Calgary, before heading to Calgary West, Cochrane, Morley, Canmore, and Banff. Just think of the live-work and commuter options that will be opened up heading both east and west on this new rail service. With 80 percent of the ridership generated within the City of Calgary, many are describing CABR as a public mass transit project disguised as a tourism train.
But there are other transformational aspects to the CABR project. It's intended to be a Private Public Sector Partnership Project (P3). All the upfront capital costs, and the risk that goes with it, are carried by the CABR proponents and the Canadian Infrastructure Bank. Ridership forecasts anticipate that 100 percent of the operating cost and maintenance of the train service will be picked up by the farebox with the CABR proponents being fully accountable for paying down at least 50 percent of the capital costs to build the rail line and providing the rolling stock.
This is a far better deal for the taxpayer than traditional LRT infrastructure financing where 100 percent of the capital is provided by government sources and is unrecoverable. In this model, the farebox revenue covers only about 50 percent of the operating and maintenance costs with the remaining costs picked up by the taxpayer. The financing model for CABR works because virtually all the dedicated rail line for the train can be built within the existing CP Rail corridor at a fraction of the cost of an LRT project which requires additional land acquisition, utility relocations, and related environmental assessment costs. Furthermore, CABR is adopting a three-fare model whereby first-class and premium economy, largely paid by tourists landing at the Calgary Airport, subsidizes the economy fare that local commuters will pay to access all stops on the CABR route.
After many years of record vacancy rates, downtown Calgary is finally showing signs of recovery. However, with a 27 percent office vacancy, we must remain vigilant in fostering a downtown recovery. CABR's express service offers a real alternative for travellers getting to and from the airport and will be the fastest airport-to-downtown travel time of any of the 18 major cities in North America which now offer a rail connection.
While there's a need to draw more people to Calgary's downtown and Beltline district with improved airport access for the new convention facilities under construction at the BMO Centre and an anticipated Event Centre for the Flames, there are equally compelling reasons to have fewer private vehicles accessing Kananaskis and Banff National Park. With recent policy changes including the Town Councils of Banff and Canmore adopting paid parking and encouraging intercept parking, the Province of Alberta introducing a vehicle fee to visit Kananaskis, and Parks Canada's new Banff Management Plan discouraging private vehicles to Banff National Park, all three levels of government are seeking mass transit solutions to these destinations to address congestion. CABR is forecasted to get more than two million vehicles off the road.
With CABR's forecasted reduction in vehicular traffic to Kananaskis and Banff and an increase in mass transit use in Calgary, significant greenhouse gas reductions can be realized simply by taking more vehicles off the road. However, CABR's intention to offer North America's first hydrogen-fueled passenger train service means even further greenhouse gas reduction. Hydrogen-fueled passenger rail service has already proven to be successful in Germany. The 150 km CABR route appears to be ideally suited for a hydrogen fuelling solution and will demonstrate to the rest of Canada and the world Alberta's leadership in energy transition.
As we look to the future, we're witnessing increased migration to Calgary from other parts of Canada and around the world. The millennial generation, the people coming to Calgary for a more affordable place to live, represent the workforce of the future. In many cases, they're coming from places where they didn't need to own a vehicle and hold a deeper interest in leaving a smaller environmental footprint. The upside to having a CABR service is the quality of life associated with having the mountains more accessible without the need for a vehicle. This is a real differentiator when attracting the world's best and brightest people to work on energy transition and emerging technology sectors, as well as addressing the tight labour market impacting our tourism and hospitality sector.
In her decision to support a Calgary Airport to Banff Rail service, Premier Smith recognizes there's some cost to the Alberta taxpayer of providing the CABR infrastructure. The P3 solution goes a long way in minimizing that cost and reducing the risk to the taxpayer. Furthermore, independent studies predict the construction of CABR will support 9,880 job years for construction. When operational, CABR anticipates 22,500 new jobs and economic benefits estimated at $6.4 billion. Comparing the benefits of CABR to the Government of Alberta's anticipated capped annual performance-based payment of $30 million will result in economic benefit to Alberta more than six times its contribution.
The message to the Alberta Government and all Albertans is that the Calgary Airport to Banff Rail service is indeed transformative. It will fuel Calgary's downtown revitalization, enhance the Banff and Kananaskis visitor experience, better connect our workforce requirements with a place to live, demonstrate our commitment to energy transition and the environment, and showcase Alberta's can-do entrepreneurial spirit, all while offering a great value to Alberta taxpayers.
Let's get on with it!
For more information about CABR, documented support for the project, and answers to frequently asked questions, please visit the Friends of CABR website.
Bruce Graham
Senior Advisor
Executive Director – Friends of CABR