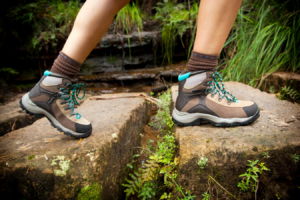 As with hiking boots, if you have a coach you're going places.
I took a phone call asking if I was available to deliver executive coaching for an organization. After confirming, I immediately called a trusted colleague employed by the company in question and told her about the phone call. "Bruce, if you have a coach in our organization, it means you are going places!", she replied.
In my 20 years of coaching leaders, that's the answer I wanted to hear. In my view, the overall goal of coaching is to identify key strengths as well as opportunities for development in order to become even more effective in your role. And to develop an increased capacity to be even more successful as an engaging and impactful leader. And as coach, I acknowledge you, and ensure you celebrate wins and enjoy your success.
If asked to describe benefits of executive coaching many will say:
Moving you from feeling threatened to feeling challenged in these times of unprecedented uncertainty.
Increasing self-awareness, systems awareness, and understanding of others.
Cultivating a more strategic view, challenging assumptions, shifting perspectives and rapid development.
Eliminating self-deception (what the leader can't, won't or doesn't see).
My colleague and executive coach Colleen Winston adds: "An Executive Coach is your competitive edge."
The International Coaching Federation, the certifying body for the coaching profession, defines professional coaching as: "…. an ongoing professional relationship that helps people produce extraordinary results in their lives, careers, businesses or organizations. Coaching concentrates on where clients are now and what they are willing to do to get where they want to be in the future."
As an impartial and objective thought partner and sounding board, your coach will begin each virtual or in-person coaching conversation with "What do you want to talk about today?".
Consider this an open invitation to strap on your hiking boots and begin to enjoy the challenges and outcomes of your development journey.
Bruce Halliday
Principal